Questions for the band? Comments?
Tell us what you think by clicking on
the Leave Comments link below!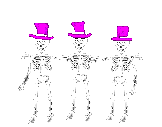 Terrapin Moon grew out of the desire to explore the music of The Grateful Dead. With a vast amount of experience, the five members, Charlie, Bill, David, Tom and Dave, transcend into a musical conversation that brings the material to life in their own unique style. Much like the Grateful Dead, their repertoire is sprinkled with classic and traditional covers.

If you would like some music from our shows, go to the contact page & let us know! We'll send you some c.d.s, which will be a mix of tunes from various shows. You'll need to pay postage, but the music is free!
We welcome tapers at our shows! Just be considerate.Tell us about your Grateful Dead experiences! Send us your comments............